忍耐 + 掌握人生 Nittaidai & The 6th Hong Kong Asian Kendo Taikai
Photos for both Nittaidai and Hong Kong are up now
I had planned to write a separate report on the Nittaidai visit before leaving for Hong Kong. However, due to the super intensed work and kendo schedule in the past weeks - leaving home at 6 in the morning and returning home past midnight every day since the Nittaidai arrived, I didn't have the chance to submit an entry before getting on the plane to Hong Kong. So here, I have combined the Nittaidai visit and the 6th Hong Kong Asian (Regional) Invitational Kendo Tournament into one big report.
Feb-13, Nittaidai Goodwill Keiko
The Nittaidai delegation arrived Sydney on Mon, 13-Feb. The NSW Kendoka had a chance to keiko with the kendo students straight away on that day at the Cook & Phillip Park Aquatic & Fitness Centre from 5pm - 7pm.
This year is the first year that Shizawa sensei didn't come with the delegation as he was officially retired last month. The head of the Nittaidai delegation for this year was Hakamada sensei, with Yagizawa sensei and Shinzato sensei as coaches of the visiting kendo delegation.
We had group stretching and suburi warm-up together, led by a Nittaidai student. Then we had the following exercises in full bogu. Guys with guys, girls with girls. I lined up with Sayaka, Syouko and Elaine.
- Kirikaeshi x 2
- Do-kirikaeshi
- Kaeshi-do-kirikaeshi, with Motodachi executing men-cuts
- Men, Kote, Do, Tsuki, Men
- Nidan, Sandan Waza: Kote-men, Kote-do, Kote-men-men
- Counter Men Waza: Men-nuki-do, Men-kaeshi-do, men-kaeshi-hiki-do
- Counter Kote Waza: Kote-nuki-kote-men, kote-suriage-men, kote-nuki-men
- Debana Waza: Debana-men, Debana-kote, Debana-men, Debana-kote
Following the waza session was free jigeiko session. I wasted no time and ran out to 'onegaishimasu' Shinzato sensei. In the 45mins of free jigeiko, I had the chance to engage jigeiko with Shinzato sensei, Hoso (whom I think is the strongest amongst the Nittaidai girls), Kimiko (aka. Pretty girl), Sanae, Mikiko (my homestay buddy at Nittaidai), Sayaka and Kayo.
The training finished off with everyone doing kirikaeshi.
Wow, it was so goooooooooooooooooo to meet my Nittaidai friends again. I was over the moon to be able to train with them in the Nittaidai way. Having surrounded by so many young, energetic, keen and fast Kendoka of my age gave me an indescribable amount of energy to train and fight harder, and to become better.
That night, Ron Bennett sensei, Sano sensei, Andrew van Hamond and myself had dinner with the Nittaidai kendo sensei at a Spanish restaurant on Liverpool Street.
Feb-14, Nittaidai Traditional Japanese Budo Demonstration
The demonstration was held at the Homebush State Sports Centre from 6:30pm - 8:30pm. Although I have attended the past 4 years Nittaidai demo, watching the demo this year was extra special for me. I knew all the girls from the Nittaidai kendo groups, so watching their kendo performance meant a lot more to me. Also, having practiced taiko with Miki and the Nittaidai Taiko group for a few lessons, it was nice to see the real thing. heh, it was great when Miki saw me in the sea of audience and we both exchanged nods and smiles. Ah Miki, I really hope to visit you in Japan again in the not-so-long future.
Nittaidai! YEAH!!!!

After the demo, Mike and I went on to separate Nittaidai buses (with our own Nittaidai friends) to the City for the big group dinner.
Feb-15, Nittaidai Goodwill Keiko
Three team shiai were staged today - Womens, Mens B team, Mens A team.
For the Womens team, the NSW side had Anna, Natalia, Tenno, Cecilijia, and myself; while the Nittaidai had Syouko, Sanae, Hoso, Sayaka, and Kimiko.
My match with Kimiko ended with Pretty Girl scoring two beautiful men cuts in a flurry of cutting exchange.
Following the team shiai was a short free jigeiko session, I had jigeiko with Yagizawa sensei, Mikiko and Hoso.
After the training, Mike, Jackson, Dino, Aaron, Nat and myself went out with some Nittaidai kendo friends to dinner at the Star City's Korean all-you-can-eat restaurant at 9:30pm. Initially we planned to go to a steak house. But the place we had in mind was so full, so we went to Star City to check out the buffet place. However, when we got there, it was 10mins before close time. So we ended up eating at the Korean restaurants.
Me and Mikiko - my homestay buddy

At the Korean all-you-can-eat place.

Ice-cream. Chuo oishii!!!

Feb-16, Manly Beach with Nittaidai, Flight Out to Hong Kong
I met the Nittaidai group at their hotel at 8:30am. We then got on the coach bus to the Circular Quay Wharf where we would ride the ferry to Manly.
I stayed with Miki, Hoso, Syouko, Sayaka and Kimiko most of the time - assisting them in shopping for beach wears. We then went to the Manly beach to have a swim, then had lunch, and had some more swim again, before taking the ferry back to the City.
Manly beach

I got home at around 3:30pm, and started packing for Hong Kong straight away.
I was scheduled to meet Mike, Jackson, Dino and Kai at the Sydney Airport at 8pm. My dad so kindly drove me to the airport. It would be so difficult if I was to go by myself, especially when I was so sleepy at the time. I was completely pooped having only 3hrs sleep the previous night and (5 hours for other nights earlier in the week), so I was sleeping the whole way from home to the airport and on the flight from Sydney to Hong Kong.
Feb-17, Arriving Hong Kong, Acunpuncture, Goudou Keiko
We arrived to Hong Kong at 4:30am. With the first A11 bus to City Garden Hotel leaving at 6:10am, we sat in the airport terminal taking silly 'happy' and 'grumpy' photos with Dino and my cameras respectively. We also bought some Octopus cards and phone cards while waiting for the bus.
Grumpy photos of Dino and Jackson with their Octopus cards

In the afternoon, I went with Michael Komoto to acunpuncture in Wan Chai to treat his kendo elbows. Afterwards, we met up with Agnes Lee of the HKKA and had Wonton noodle soup, Dumpling noodle soup, and beef brisket noodle soup at her favourite wonton noodle shop.
At 6:30pm, 2 coach buses took all the kendoka from the City Garden Hotel to the Hong Kong Park Indoor Sports Centre for the Goudou Keiko. We had keiko from 7pm - 10pm. There were basic waza training in the first half of the session, and then free jigeiko in the second half. I had the opportunity to jigeiko with Kishikawa sensei (HK Team coach), Lai sensei (HK), and a few other sensei on the night.
Afterwards, we caught the provided coach buses back to City Garden Hotel and had dinner in the function room.
A comment I received from Terry Holt sensei during the keiko was my hand position after I put my shinai away to go off to rei. Apparently, my left hand was spreading out instead of tucking in next to my waist.
Feb-18, 2Dan & Below Team Competition
I went to Mike's and Jackson's hotel room at 9:30am. However, those lazy bums were still in bed, and so I just sat on the chair, soaking in the fresh (stinky) bogu smell while waiting for them to get up. At that time, I was really feeling sorry for the staff who has the unfortunate task of servicing their room.
Shoes!!!

We went to Yoshinoya for brunch today. (Surprise. Surprise) Then caught the coach bus to the Hong Kong Park Indoor Sports Centre.
The day has finally come. I have waited for this date for one whole year. Having getting so close to winning the event last year, I couldn't wait to fight for NSW in the 2Dan & Below team event.
I was generally very happy with my performance in the 2Dan & Below Team competition. I really enjoy the atmosphere, where many people cheering loud, whether for our team or our opponent's I didn't mind. Loud and involved audiences really pumped me up well for my matches. The crazier the audiences, the more energy for me.
NSW Team A & B - Kai, Mike, Vivian, Jackson, Dino, Kai-Yan Mo

My team - NSW A - consists of Jackson (senpo), myself (chuken) and Michael (taisho).
The NSW A team was in Group E with Beijing D and Hong Kong B. We won both matches to advance to the Quarter-finals where we met Hong Kong C. I won all my matches 2-0 up to the Quarter-finals.
In the Semi-finals, we met Taipei. In my match, I had to fight against a really 'sticky' opponent who wouldn't let go from the tsubazerai position. Really really frustrating!!! I was really hoping that the shimpan would award a hansoku for the sticky tsubazerai, but I wasn't in such luck. I tried a few hiki-men, but the cutting power wasn't enough to warrant an ippon. So in the end, I had a draw in this match.
Later that evening, I discussed my match with Komoto sensei. He said that my opponent had an unconventional tsubazerai position, where shinai were crossed on the opposite side, and he had his shinai resting on my shoulder. However, I reacted by also pressing down my opponent shinai's in the unconventional way. Although I didn't have my shinai leaning on the opponent's shoulder, it wasn't clear to the judges who was initiating the bad sticky tsubazerai situation. What I should do was to position my shinai in the traditional upright tsubazerai position, so the judges could clearly see who is doing what in the tsubazerai position.
I was able to engage a couple of jigeiko at the end of the day with a few girls from Asian KC, Shanghai and... Jenny (finally). After much talks and exchange of comments on our blogs, I am so happy to be able to engage keiko with Jenny. We had a great keiko together.
The official welcoming party was held at the City Garden Hotel function room on that evening. The NSW team and Jenny were seated at a impromptu table right in front of the stage because there wasn't enough tables and seats set up for everybody. The night was fantastic. Food was great. We were able to have a lot of good chats with many Sensei from different countries. And of course, photos. Many many grumpy and happy photos! Even the Sensei pulled faces. Great fun indeed.
(Note - the guys had assigned my camera as the grumpy camera and Dino's the happy camera. Photos taken using my camera all had to be grumpy, while Dino's must be all happy photos.)
The bear with Eda Chen

Photos with Roberto Kishikawa sensei, 7th Dan - Hong Kong Team Coach

Grumpy photo with Sueno sensei and Jenny Mingshi on my sides - sorry guys, I just can't do grumpy with an 8th Dan sensei.

NSW Team with Nozaki sensei in the middle

Photo with Michael Komoto sensei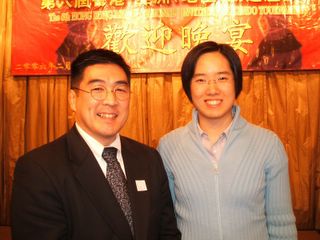 Michael Komoto and me at the welcoming party

Feb-19, Womens Team, Mens Open Team Competitions
Womens team event was scheduled in the morning, and following straight after that was the Mens Open team event.
I joined a combined team to participate in the Womens Team event. 3 of my teammates were from Taiwan and 1 from Macau. Kishikawa sensei told me at the previous night welcoming party dinner that 2 of them were former Taiwanese team members. Woohooo!!! We had good chance in this event.
I was the Taisho of this team.
We faced Hong Kong A team in the quarter-finals match. The score was levelled at 1-1 coming into the Taisho match. In the end, I won my match 2-0 to advance to the next stage.
Just before the match against the Hong Kong womens team

In the semi-finals, our opponent was the Shanghai team. My teammates fought really well and were 3-0 up leading up to my match. So for my match, it was more about having fun and to play as nicely as possible in front of the many spectators. I won my match by ippon with a tobikomi-men.
We had to fight against Asian KC for the winning womens title in the finals. The Asian KC team was really strong indeed. They won most of the matches leading up to mine, so the title was decided before my match was on. Anyhow, that just made me feel more pumped up. I just wanted to see if I could win my match and reverse the trend. My opponent was Miyamoto.
I took the first point with a tobikomi-men. However, Miyamoto took 2 well-timed debana-kote off me to grab the match.
In the Mens Open team event, we played against Thailand A and Hong Kong B. I won both my matches with 2-0, and my team won the match against Thailand A but narrowly losing to Hong Kong B. So no luck in advancing to the next stage.
During the Mens Open team shiai. I am the one facing the camera.

During the Mens Open Team shiai. I am on the right, and just cut a kote.

We spent the rest of the day watching shiai, video-taping all sort of strange things, strange people, strange events, funny comments, and interviewing Sensei.
Grumpy photos at the NSWKA area

The Closing Ceremony was held at around 5pm and after that, we had big group photos and free jigeiko for about 30mins. I searched for Eda Chen sensei, and rushed straight to onegaishimasu her when she was finally able to take off her HKKA secretary hat and put on her bogu. After the jigeiko with Eda sensei, I went to queue up for Yamanishi sensei from Manila. However, while I was waiting, another sensei came over and so I had jigeiko with this sensei instead. (sorry, can't remember his name.)
3rd in 2Dan & Below Team

Receiving medals from Sueno sensei, 8th Dan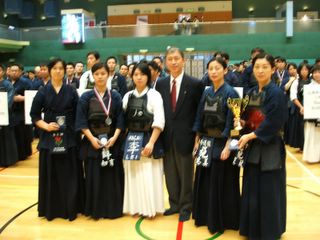 2nd in Womens Team

Happy Snappy with Chan from the HK Team

That night, we went to Lei Yu Mun to have seafood. Well, I didn't eat all that much on the night because I spent most of the time talking to people and watching the sensei sing 'I did it my way'. Very funny indeed.
Mr. Wong Po-Kit, HKKA President. Notice the unwilling expression of Nozaki sensei who was to drink a glass of rice wine. Didn't look like it tasted nice at all.

Komoto sensei, Uehara sensei, Yamanishi sensei. What a photo!

Feb-20, Acunpunture, Sham Shui Po (Computer) Golden Tower, Tsim Sha Tsui, Temple Street Market
Komoto sensei and Kamiya sensei both had acunpuncture appointment in Wan Chai in the morning. I went along to watch and to help with translating from Cantonese to English. There was a 3-way translation going on during the whole acunpuncture session. I translate the acunpuncturist's words from Cantonese to English. Michael then translated that into Japanese for Kamiya sensei.
After acunpuncture, Michael and I went back to the City Garden Hotel to meet up with the guys. We caught the MTR to Tsim Sha Tsui to meet up with Agnes Lee, had lunch and shopped for Souvenirs there before venturing off to Sham Shui Po for computer stuff and DVDs for the rest of the afternoon.
That night we had dinner in Tsim Sha Tsui with Mr. and Mrs. Kamiya. We had peking duck, shark fin soup, amongst many many great dishes. Coincidentally, Eda Chen also took Terry Holt sensei (Mumeishi, UK) and his daughter, and Brett Gazzaniga sensei (Mumeishi, Melbourne) to the same restaurant.
After the dinner, we walked through the Temple Street Market. I didn't buy anything, but did find a snake shop. YAY!!!! So I bought a large snake soup for take-away. 1st HK food objective satisfied!
Feb-21, Yung Kee's Roasted Goose, St. Paul's Co-ed Visit, The Peak, Australian Dairy Co., Gai Dan Jei, Snake Soup
I satisfied all my food objectives on my last full day in Hong Kong. Michael and I went to Yung Kee for Roasted Goose, Jordan's Australian Dairy Co. for double-steamed milk/egg, Gai Dan Jei on the street, and Snake Soup (again!) in Causeway Bay.
Yung Kee ran out of roasted goose!

Snake soup - My Absolute Favourite!

We also visited my High School in Hong Kong - St. Paul's Co-educational College - on the way to The Victoria Peak. I got there after the school finished, but managed to find my Form. 1 class teacher to have a chat.
At 8pm, we watched the laser show display on the Harbour foreshore before taking the Star Ferry back to Hong Kong Island and had Snake Soup in Causeway Bay.
Feb-22, Visit my Grandpa and Aunt
I had yum cha with my grandparents and auntie in Tsim Sha Tsui in the morning. Afterwards, Auntie took me to Sham Shui Po to have snake soup (YAY!!!) before taking a bus to her home in Yau Yat Village. Had a good rest at my auntie's home before trekking off to the airport. I caught the 10:20pm CX111 flight back to Sydney.
And there you have it. My exciting Hong Kong kendo (plus food) adventure.
Michael Komoto Sensei's Comments
"....I think it is very useful to find a good example and imitate them. I usually suggest to young students find someone with a body style similar to them. The pantomime really never becomes a perfect imitation, but eventually becomes your own. It is the essence of what the Japanese expression shu-ha-ri,
守破離
(follow, adopt, and develop into a hybrid) states. You can use the habits of skilled kenshi, so as not to reinvent the wheel, to acquire a skill level you do not understand yet. The understanding comes later. There is only one additional thing I recommend: try to select a model with a good character. Choosing a model with a less than admirable character, we sometimes acquire the unpleasant affectations as well. Kendo is not only about techniques and tournaments. The fact is, without the moral and ethical component of kendo, it reduces to little more than sweat and violence. We should strive to go beyond this....""Suri-ashi and fumi-komi practice will condition essential muscles and coordination that are not otherwise natural. Doing these exercises to exhaustion is the best, as reflexes, subconscious proprioception, and coordination become second-nature.

On top of the suri-ashi and fumi-komi practice, during striking exercises, great attention must be paid to simultaneous shinai-strike and fumi-komi. Neither has to be hard or forceful; but rather, a crisp, light strike such as in the clear sound of a musical instrument, with nice accompanying body posture, is the best.

Useful to have attacks that seme to kote or men, and go to the opposite. This subject is big and is beyond the scope of this note pad. But please study the topic, forever.

Courtsmanship: necessary to know where both you and the opponent are in the court, at all times. Essential to be able to circle-in from the edge, and "corner" your opponent reducing his possible movement and types of techniques available for practical use. In principle it is nicest to stand at the center of the court and combat your opponent with this back to the edge all the time. Learn to circle to trap your opponent to half-court and court-corner.

Kote & men suriage exercise: I'll make demo short video (eventually)

Kote-nuki-men extremely useful against opponents who can only do kote. Identify the one-pattern of kote-only early on and 'set-up' your kote-nuki-men. They get afraid, frustrated, and eventually go insane if you make their kote attack their own greatest vulnerability.

Kan-kyuu-kyou-jyaku 
緩急強弱
 or slow, fast, strong, and weak: all these 'modes' are necessary for the accomplished kenshi. Don't try to be strong and stiff all the time.

Waiver: Change anything in your kendo, and in many cases, for a while, you won't be able to hit anyone, and will get hit even by beginners; however, in order to make improvements, it is necessary to fix old problems, and experiment. Do so in basics exercises, and in ji-geiko freely. Allow yourself to get hit sometimes (even when you don't particularly like the opponent) and analyze what makes the technique work (i.e., timing, distance, situation, etc). Get stronger and grow in skill and kendo-maturity and you can come back later and thrash on that person just for fun."
Specific Comments
"Kamae: feet are too far apart from the start, diminishing your ability to start a forward movement of the body (from tou-ma, the long distance). If you start a forward movement from your feet-spread-apart distance, you'll get too close for anything except making an immediate attack. Also, with legs spread apart, some of the effective range of motion of your legs is lost, resulting in a shorter attack range. Start with feet close, seme forward from tou-ma with no change in upper body, and then as opportunity avails, and at your uchi-ma, your own striking distance, you can use the forward momentum to your advantage. Above recommendation for suri-ashi and fumi-komi exercise will give you more nimble movement, and eventually longer attack "reach."

Head-ducking kote can be fixed and improved by using shorter arcing swing of the shinai from further-out; however, there should also be a men that initiates in similar fashion (so opponent doesn't know which is coming)

Be careful of 'nodding agreement to separate' from tsuba-zeri-ai. The opponent is under no compunction to be honest, and may (fairly) take advantage of your willingness to tell them you are backing away with no intention to issue a technique."
My Own Video Observations
Watching the video I taped during the Nittaidai keiko and Hong Kong Taikai, I realised that I have the following points to fix:


Zanshin after men-cut - I stopped in front of the opponent, kind of like sticking to my opponent, after executing a successful men cut. I could have shown a more convincing (or beautiful) zanshin by using footwork to separate myself from my opponent.


Arm position after men cut - I observed the difference between the Nittaidai girls' arm position after men cut and mine. I definitely need to work on keeping my arms horizontal, instead of lifting up, after men cut.


O-tsukaresama deshita

O-tsukaresama deshita