忍耐 + 掌握人生 See You In Taipei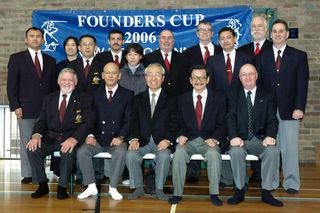 Photos taken at the Founders Cup 2006 with some of the Founding members of Australian Kendo. I am just so honoured to be in this photo with all the important kendo icons in Australia.

48 Hours with The Russians
Vitaly and Sergei stayed with my family last weekend. On Friday after work, I met up with them in Wynyard and took them to the Australian Hotel in The Rocks where we tried some dinky di Aussie food - kangaroo, emu and crocodile pizzas, a sweet potato salad, and of course, some Aussie beer (Beez Neez honey wheat beer) to go with our meal too. We ate and ate and ate... and we realised that there were just too much food. So I said don't worry about about the pizza base. Then Vitaly started taking the meat slice off the pizza base, put some sweet potato salad on the meat slice, and roll it up into a wrap. That was a really fantastic idea, and it tasted really good too.

After the pub dinner, we walked around the harbour foreshore outside the Circular Quay Ocean Terminal and took some nice pictures with the Sydney Opera House as the backdrop, and... some silly pictures of us getting rescued with lifesaver hoop around our neck. Mmmmm...

Saturday - Willoughby
The next morning, I drove Vitaly and Sergei from home, picked up Max and Eleana from Gordon, and met up with Aiko at Chatswood station and head to the dojo. 6 people in a 1.8Ltr engine Toyota Corolla wagon made a VERY cramped kendo bus.

There were plenty of senior grades attending the Saturday training, so I didn't have to be motodachi, and was able to do some kihon waza keiko before engaging in the jigeiko session with Ka-bi, Doug, Maxim and Itakura sensei.

Yoshiki watched my jigeiko with Ka-bi, and commented that I was jumping up and down too much when fighting against Ka-bi's jodan, which didn't work well for me. It was all too predictable for Ka-bi, and he could easily grasp my rhythm from my movements.

I need to practice moving around, while at the same time pushing in with seme, without too much big jerky rhythmic movements when playing against jodan players.

I received a lot of feedbacks in my last jigeiko with Itakura sensei. There were 2 things he pointed out in my kendo:
Seme-Men - Be patient. Sustain the pressure from the kensen on your opponent to the very last moment. This is done by keeping the kensen pointing straight at the opponent's throat right to the very very last moment before flexing the wrist to make the men-cut.

Push from the hip to bring whole body forward. If this is done correctly, the men-taitari will be strong.
It was Sergei's 19th Birthday. Twins and Kassandra prepared a birthday cake and we ate it after training, before going to Black Cow for lunch.

After lunch, I drove the Russians to the CentrePoint Tower observation deck to view the Sydney skyline. We spent about 2 hours there and by the time we came out, the sun had already set.

I dropped Max and Eleana back to Gordon, and went home with Vitaly and Sergei to drop off the bogu and shinai, before driving back to Chatswood again with my family for dinner. I took them to Fook Yuen Seafood restaurant - my favourite Chinese Restaurant - and we had Peking Duck and some of my favourite dishes there. It was great to hear later that one of Sergei's wishes was to eat Peking Duck, and he was really happy to have that wish realised on his birthday. We chatted a lot about their town and the interesting lifestyles in Russia. What a great night!



See you later, Peking Duck!
We spent the rest of the night watching lots of kendo DVDs - Vitaly's and Sergei's DVD about their dojo in Vladivostok, Kendo Nippon DVD on Kyushu Gakuin keiko kai, and some kendo videos on Youtube.com.

Vitaly and Sergei
We watched the kendo DVD until early next morning and so I didn't get up from bed until 10am. Sergei wanted to play table tennis, and so I opened up my Stiga table tennis table which I haven't used since the last big house party long long time ago, picked up my good pimpled-rubber winning bat and had a few hit with Sergei.
Sergei was actually very good for someone who doesn't play competitively. He told me that he used to play table tennis a lot before taking up karate and kendo. I think he is simply very talented in coordination, and so I was actually able to have a decent rally incorporating smashes and spins into the game. It's been a long time since I played a decent game outside my former table tennis club.
Anyway, Sergei challenged me for a few games, and that was really good fun. My tokui waza, which are my different type of serves - long fast straight down the line, short back-spin, crazy side spins, etc. - were still serving me very well. Sergei had some troubles in the first couple of games, but I could see he was adapting very quickly, and in the last few games, he could return a lot of them and we had some good rallies.
We had great fun playing table tennis. And also... I rediscovered some of the muscles on my right body again.
After 1 hour of table tennis, my family took the Russians to Kam Fook in Chatswood for yum cha. It was their first time to try yum cha and it was great to see them trying all different food, especially with Sergei. I was surprised that he received the yum cha so well. He would spin the turntable and try cow stomach and cow intestine along with the different dumplings, water chestnut cake (my favourite), etc. without having us introducing the food first. It was definitely great, and my parents were so happy.
I drove them back to Gordon after returning home to pick up their gears and burnt a couple of kendo DVDs. That's my 48 hours with the Russians. What an interesting and fun time!
Monday - UNSW
It was crunch-time at work as the project approached the final phase of a system development lifecycle, so I got out of work later than I would like (but very early for the rest of my team standard). I got home (45mins by train), eat quick dinner, and drove 45mins back to UNSW. It was 8pm when I arrived, and while I was finding a parking spot, the fire-alarm went off in the Unigym. People was coming out of the Unigym and eventually the kendo people, still wearing their armour, came walking out.
I decided to train without the wrist protector for the first time since rupturing my wrist ligament in late April. I put some tapings around the wrist and lower palm to give the recovering area some support, and my wrist held up very well. It was very good to have more flexibility in my left wrist for cutting.
At the end of the Monday training session, I had jigeiko with Aaron, Nurlin and Nat, and I video-taped those keiko for video analysis.
Post-training Video Self-Analysis:
Hiki-do - After executing a hiki-do, it is safer to circle back to the left hand side.

This is because after cutting hiki-do, my body is already on the left hand side of my opponent, so it is quicker to move back to the left to get away from my opponent in a short time.

Debana-kote - the body should move in quickly after debana-kote.

At the moment, I am going in for the debana-kote cut quickly, but the footwork stopped abruptly after the kote cut. I should zoom in quickly before and after the debana-kote.

100% Concentration at all time

- there are some periods where I was day-dreaming and not applying seme and not doing

anything. I must concentrate at all time.

Snappy Men / Hiki-men

- Now that my left wrist protector has been removed, I should try

re-training my left wrist to do snappy men / hiki-men cut.

Seme with body, not arms

- in kamae, I extend and lift my arms up too much for seme purposes, which is unnecesary. I should move my whole body in, and not with my arms, if I were to seme.

Be more aggressive in my attack

- I lift my arms to block and defend too much when I could have shown more initiatives in attacking.

Try more kote-men.
Wednesday - Willoughby
It was the 3 Russians last training in Sydney before flying back to Russia on Friday. Vitaly led the training, while Itakura Sensei made comments about the finer points of what to improve in our basic cuts. I had one last time of doing jigeiko with all 3 Russians at the mawari-jigeiko session.
See You In Taipei! См. Вас в Тайбэе
Thursday - UNSW
It was a small class on Thursday - only 13 people turned up. At the beginning of the training session, Kirby asked everyone to tell the whole class what their individual goal was in that session.
My own goal was to practice seme, creating opportunities to cut.
Among various things, the highlight was the morote tsuki practice and the kakari-geiko.
I realised how much right hand I was using when doing morote tsuki. I wasn't able to get the tsuki-dare at all in the first few rounds of rotations. I have relied on my right hand too much since having my left wrist cast on. Now that I have taken the left wrist cast off, it was extremely obvious that my right hand was over-powering my left hand. And so I had to constantly and consciously tell myself to
use my left hand and push from the hip
. After about 6 rounds of morote-tsuki practice, I was able to land on the target with high success rate. In the next tsuki practice, I will need to add a bit more power in my left hand thrust to make it an ippon tsuki.
I had jigeiko with Jackson, Thao, Aaron and Yoshiki.
My goal in all those jigeiko was to sustain the pressure from the kensen on my opponent's throat to the very last moment before flexing the wrist to make the men-cut.
Reviews and Feedbacks:
Aaron kindly gave me feedbacks on the jigeiko we had. It was great to hear that he could feel the intensity in my seme, which he said, was hard to deal with. This is very encouraging for me to know that I am moving in the right direction with seme practice.
The jigeiko with Yoshiki was really good. Yoshiki's men cuts were overwhelming. They were so powerful and big, yet I didn't have anytime to react. There was

no pre-emptive signals before his cuts

. Something that I need to learn from and practice.